Amorino
, famous for its signature rose-sculpted scoops of premium gelato and sorbet, is saying 'I love you' with its signature Valentine's Day cone, in the colors of love with a heart shaped chocolate to top it all off. From 
February 1 to 15
, guests can stop by either of their two locations (The Shops at Buckhead and Lenox Mall) and order it in a cup (no gluten-free cones) with your favorite flavor of gelato or sorbet at the regular price. The sweetest way to anyone's heart!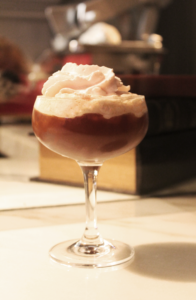 Bar Margot's Valentine's Day cocktail special, as part of The Missing Digit speakeasy-style cocktail series, is the Love Charade. Made with whiskey, espresso, chocolate liqueur, lemon juice, simple syrup and topped with strawberry foam it is perfectly festive.
Bulla Gastrobar
gives lip service to Valentine's week through its better-than-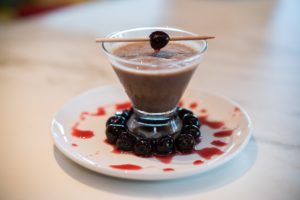 a-box-of-chocolates Chocolate-Covered Cherry martini. Bulla's chocolate sauce is paired with cherry bitters, triple sec, Emilio Lustau Pedro Ximenez San Emilio sherry and Russian Standard vodka. Embrace this sweetie February 12-18.
Gluten Free Cutie's Valentine's Day
sweet treats hit the bakery on the 10th. Choose from: 
Vanilla 
Shimmer, 
Cherry Cordial and 
Chocolate Covered Strawberry cupcakes;
Heart Shaped Sugar Cookies; 
Heart Shaped Cake Pops;
Chocolate Covered Strawberry Mini Cakes, and 
Raspberry Vanilla Mini Cakes.
Looking for cocktail inspiration for Valentine's Day? Look no further than this Cupid's Cranberry Fizz recipe courtesy of Southern Kitchen. This easy-to-make and oh-so-tasty libation is sure to add a little bubbly fun to any celebration.
Ingredients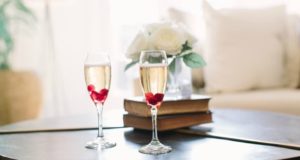 1 cup water
1 cup sugar
2 pods star anise
1 teaspoon kosher salt
1/4 cup cranberries
Angostura bitters
1 bottle chilled sparkling wine, such as prosecco, cava or Champagne
Instructions
In a small saucepan, combine the water, sugar, star anise and salt, and bring to a simmer over medium heat.While the syrup is heating, use the tip of a paring knife to pierce the center of each cranberry. Add the cranberries to the syrup mixture, reduce the heat to low, and gently poach until tender, 10 to 15 minutes. Remove from the heat, transfer the syrup mixture to a medium bowl and refrigerate until cold.Place four cranberries in the bottom of each Champagne flute, along with a bar spoon of the syrup. Add three dashes of bitters to each flute, then top with sparkling wine.
True Food Kitchen's Valentine-inspired cocktail menu is available from February 9 – February 18 and it has a little something for everyone.

HOT IN THE DARK pomegranate, jalapeño, ixá organic tequila, and lime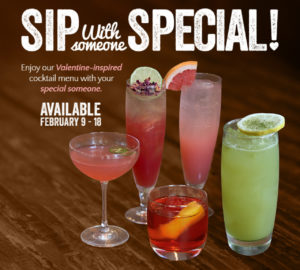 WAR OF THE ROSES
prosecco, pomegranate infused vodka, lime, rose petal
MELTS MY HEART campari ice cubes, sweet vermouth, bourbon
MATCHA MADE IN HEAVEN
vodka, matcha, lemon
RED MOON
grapefruit, yuzu, honey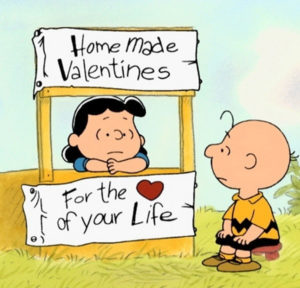 If you need me, I'll be at
Venkman's
for their very special evening of "Be My Valentine, Charlie Brown" with David Ellington and friends. Charlie Brown, Lucy, Linus, and the whole Peanuts gang will be on our big screen while David Ellington recreates the iconic soundtrack live on stage.
Tickets
are only $5. Doors open at 5:30 p.m. and the show runs from 6:30 p.m. – 7:30 p.m.