2B Whole Gluten-Free European Bakery has begun teaching baking classes at their Alpharetta location. The next class, cupcake decorating, is on September 9th from 3-5 p.m taught by Toula, the owner. Students will top cupcakes with a variety of toppings with Vegan and paleo cupcakes available. The cost is $30 per student. Reserve your spot before it sells out!
Yes, there are places in Atlanta to get gluten-free nachos, like Bantam + Biddy. Breaded or grilled chicken sits atop a bed of fresh chips coated with jalapeno cheese, pico de gallo and sour cream. That spicy cheese sauce sends these nachos right over the edge. And they have plenty of televisions and a full bar perfect for college football viewing!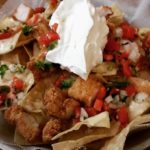 According to ToneToATL, BRIO Tuscan Grille plans to shutter its Dunwoody restaurant just a few short weeks after closing its Buckhead location.   Sources confirm to ToNeTo Atlanta that the Dunwoody restaurant, located on Ashford Parkway just off Ashford Dunwoody, is expected to close after dinner service on Sunday, September 17th. 
Davio's Northern Italian Steakhouse in Buckhead has done the unthinkable. By adding Parmesan rosemary bread and hand-rolled potato gnocchi with organic mushrooms, basil, white truffle oil, they have become the only place in town offering fresh gluten-free pasta and bread. The aromatic bread is soft and delicious, and perfect for dipping into pasta sauce! The restaurant has offered dried gluten-free fusilli pasta for years, so adding a hard-to-make fresh pasta dish to the menu is a revelation for the Atlanta gluten-free dining scene.
The gluten-free pizzas at Galla's Pizza are legit. Made on Venice Bakery's crusts, gluten-free pies are cooked on a screen in their stone pizza ovens. Tongs are used to remove the pizza and a clean utensil is used for cutting. Gloves are changed before using shared ingredients to make gluten-free pies, but I didn't have a reaction. They have several white pies to choose from, my favorite, or you can create your own from a long list of ingredients and cheeses, not just mozzarella.
Rize Artisan Pizza in Sandy Springs is no more; however, the former director of culinary operations, Edward "Eddie" Russell, is the new owner and plans to rename and reopen the restaurant. I hope when it reopens the restaurant will have a more cohesive ordering process and freshly prepared gluten-free pizza will be on the menu. Thanks ToneToATL for the update.
Treehorn Cider's tasting room is almost a reality. It is scheduled to open in early September with an expansive patio, a bar crafted out of reclaimed wood and tons of seating.