Located inside the Four Season Hotel in downtown Atlanta is Park 75, one of my favorite places to dine in Atlanta. Yes, the restaurant is gorgeous, the flowers are always fresh, the cuisine is inventive, but it is their ability and desire to safely accommodate diners with food allergies/intolerance that has won my heart and keeps me coming back year after year.
I have been dining at Park 75 for almost a decade and the service and free-from food options continue to expand and make my heart swell with gratitude. The gluten-free and allergen-free breads (free of the top eight allergens) from local bakery Pure Knead are used to prepare tea sandwiches, french toast, toast, and much more. Local and sustainable is the key to their cuisine with a supply of honey, herbs and other produce growing on the 5th Floor Terrace Garden and Apiaries.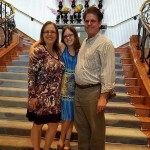 Their Sunday brunch and Tea Service are outstanding. Recently my family and I were guests at both and ate ourselves into a food coma. They are willing and more than capable to fill requests on the fly for pancakes, waffles, and french toast, which sets them apart from other restaurants, in general, and has catapulted them to the top of my dining destinations list.
The Sunday brunch reminds me of Las Vegas because there is an overwhelming selection of offerings that encompass the entire perimeter of the dining level and include: eggs to order, frittatas, breakfast meats and potatoes, salads, seafood, hot tapas, a carving station, soup, and of course an array of desserts. The Henry's Eggs and the Shepherd's Pie were my favorites. And the menu is always changing, so it isn't the same experience twice.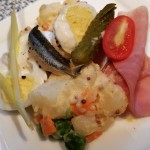 I took my daughter to Park 75 for her first afternoon tea for her birthday. When those three tiered trays arrived, I watched as her eyes widened. She really didn't know where to start and loved the added touch of a special birthday cake. My tea was entirely gluten free and included housemade scones with peach jam, lemon curd and vanilla Chantilly cream, smoked salmon, cucumber and chicken salad tea sandwiches on Pure Knead bread and french macaroons, chocolate dipped strawberries, truffles, and a slice of their flourless chocolate cake for dessert. And you can specify the type of sandwiches that will work for you from a list of options.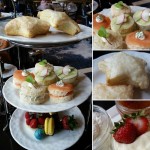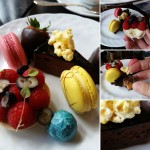 You can tell their employees love their jobs because the service is excellent and the atmosphere is relaxed with a welcoming vibe.
Make a reservation and experience the wonder that is Park 75 at the Four Seasons Hotel.
Disclosure: I received no compensation for this review; however I did receive free meals. In no way did this influence my opinions and views, which are derived from my personal experience.