It isn't often you meet a business owner so passionate about providing healthy oat-based gluten-free options to those who avoid gluten, but Deb Wheaton is just that person. Her passion shines in the quality of products from Gluten-Free Prairie, a woman owned, family operated business in Montana, that donates a portion of sales to the Celiac Disease Foundation.
After being diagnosed with celiac disease in 2005, Deb set out to create a line of certified gluten free oat-based products made with purity protocol oats grown in dedicated gluten-free fields in Montana. All grains are harvested with dedicated gluten-free combines and packaged in a designated gluten-free facility to ensure they are truly safe and aren't contaminated with gluten.
I received samples of their hunger buster cookie, pancake and waffle mix, deep dark chocolate brownie mix and Montana morning granola. They also make oatmeal, toasted oat flour and groats. You won't find any rice flour, xanthan gum, preservatives, or fillers in any of their products and oats are always the first ingredient. Making taste and health a priority, the high protein and fiber content make them a tasty addition to any diet.
So, I am kind of in love with the hunger buster cookies. Oats, peanut butter, chocolate chips and raisins come together to create the perfect pick-me-up treat with a whopping 10 grams of protein per cookie. Just a couple of bites will satisfy any dip in blood sugar. These cookies are a chewy, delicio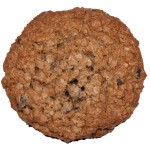 us, grab 'n go treat and I always have a supply in my freezer for road trips or long flights.
The mixes are new to me and offer a different take on traditional gluten-free mixes because they actually live up to their names. The deep dark chocolate brownie mix produces a batch of the most chewy, chocolaty brownies, even when made with dairy-free butter. They were gone pretty quickly and got a thumbs up from my discerning pre-teen daughter.
The versatile pancake and waffle mix takes mere minutes to crank out crepes or pancakes that can be stuffed or wrapped around the breakfast meat of choice. I made pigs in a blanket, which were light, fluffy and didn't leave me feeling bloated or overly full.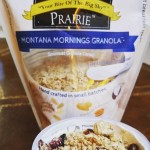 Montana mornings granola is their newest creation combining oats, chewy blueberries and cranberries, almonds, pecans, coconut and honey for a crunchy breakfast treat, topping for ice cream, or eating directly from the bag. I like that it doesn't immediately get soggy when used as a topping and the added notes of sweetness really boost the flavor of plain yogurt.
If you want to add oats to your diet in a safe and tasty way, check out Gluten-Free Prairie online and on Amazon.com!
Disclosure: I received no compensation for this review; however I did receive free samples. In no way did it influence my opinions and views, which are derived from my personal experience.