Chick-fil-A's gluten-free bun trial in Washington, Idaho and Mississippi in 2016 was a success making the fast-food chain the first to add one to its menu nationwide on June 19th. The restaurant, which worked with more than 30 companies over 3 years, created a gluten-free bun for customers who follow a gluten-free diet because they should not have to sacrifice taste due to dietary limitations.
Made with a blend of ancient grains like quinoa and amaranth, the bun is an extra $1.15 and is enriched with vitamins and mineral. Buns are 150 calories, individually wrapped, and stored frozen. Once thawed, the bun is heated and served in its sealed packaging alongside a separate container with grilled chicken and condiments. The customer assembles the sandwich, which is just one more safeguard to prevent cross contact with wheat in a shared kitchen.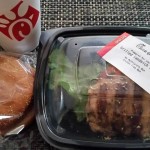 I had my first grilled chicken sandwich on a gluten-free bun and it was hearty and delicious. The bun is soft, but retains its texture and doesn't crumble or tear when eating. It is also big enough to hold a chicken breast without it spilling off the sides. The bun was a little cold when I got it home, so I heated it in the microwave for a couple of seconds to get it super warm and soft before assembling my sandwich.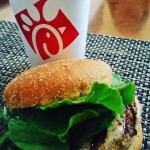 Although the ingredients for the bun are not listed on their website yet, they can print them at the register, if asked. Here is the ingredient list:
Water, corn starch, potato starch, modified tapioca starch, garbanzo bean flour, millet flour, sorghum flour, amaranth flour, brown rice flour, white rice flour, cellulose powder, sugar, dried egg whites, psyllium, salt, modified cellulouse gum, cellulouse gum, calcium propionate, sodium propionate, niacin (Vitamin B3), reduced iron, thiamine mononitrate (Vitamin B1), riboflavin (Vitamin B2), folic acid, yeast, canola oil, tapioca flour, rice flour, molasses, maltodextrin, quinoa, amaranth, chia seeds, millet, teff, soluble raisin solids, granulated sugar, tapioca starch, degerminated cornmeal, niacin, thiamine mononitrate, riboflavin.
Are you likely to try the new gluten-free bun at Chick-fil-A?