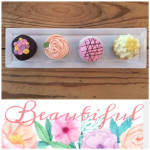 Take Mom to Mother's Day Breakfast May 13th from 9-12 at Gluten Free Cutie. The menu includes: Raspberry French Beignets, Waffles with Blueberry Syrup, Sangria Mocktail (non alcoholic), Orange Julius, and an array of gorgeous cupcakes (Vintage Floral, Peach Blossom, Raspberry Delight and Lemony Lemon).
Gluten Free Cutie is hosting  Garden Tea every Wednesday starting May 10th through the end of July. Enjoy tea on the Garden Porch served on vintage china and linens. Tea for two includes: tea, mini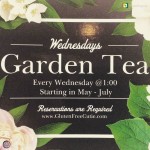 cupcakes, scones, cheese straws, mini southern biscuit sandwiches and more. Tea service is $22.50 per person, or $24.50 per person for dairy-free requests. Reservations are required: 770-518-7858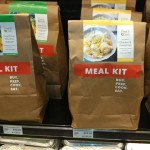 PeachDish's meal kits can be found at two Atlanta area Whole Foods stores: Ponce de Leon and Buchead. Their ingredients are sourced directly from small-scale Southern farms and the meals are nutritionally balanced by their registered dietician. The super food tofu bowl kit is free of gluten.
Check store shelves for two new flavors of So Delicious' yogurt – peach and key lime. Made from coconut milk, these creamy dairy-free yogurts are loaded with real peaches and tropical key lime puree.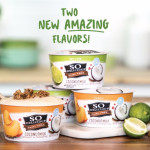 Snack Factory®, the makers of snack favorite Pretzel Crisps®, have introduced a brand new product line of Fruit Sticks and Veggie Sticks. Created from fresh fruit and vegetables, light and crispy Fruit Sticks and Veggie Sticks are gluten free, Non-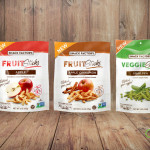 GMO Project Verified and free from added sugars. Veggie Sticks come in five flavors: Apple Fruit Sticks, Apple Cinnamon Fruit Sticks, Apple Strawberry Fruit Sticks, Snap Pea Veggie Sticks and Pea & Carrots. Thanks for the intel Gluten Away!
According to TonetoATL, Steel City Pops, a Birmingham based popsicle business, is planning its Atlanta debut later this summer in Decatur at 312 Church Street. Handcrafted in small batches from all-natural ingredients, the popsicles are sweetened with organic cane sugar and contain no artificial colors or flavors. All of the pops are gluten free with vegan options too.
Have a safe and tasty weekend!