Most of us have made the trip to Cobb Galleria Centre for a social or corporate event, but did you know it has its own culinary department with a full-service kitchen? This kitchen, run by Chef Nick Walker, serves anything but the typical bland and uninspired food one expects from a convention center. Chef Nick's fresh approach means everything from condiments through dessert is made in house with local and seasonal ingredients. Serving as a make-it-from-scratch kitchen, they are well equipped to handle multiple food allergies/intolerance with creativity and flair.
As a member of the Atlanta Food Bloggers Society, I was fortunate to get a seat at the chef's table, which happens to be in the kitchen of Cobb Galleria Centre. We were treated to a coursed dinner with craft beer parings from Monday Night Brewing. Six courses, great service and a plethora of information was served by Chef Nick Walker and his team of talented chefs.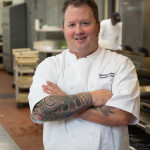 Chef Walker's innovative approach to cuisine pulls from his Georgia roots and his pure enjoyment of good southern and fresh ingredients. This passion for food can be tasted in every bite. If I hadn't been sitting in the kitchen, I would have sworn I was in a five-star restaurant because the food, the artful presentation, and the service was impeccable.
Because I have celiac disease, my dishes were modified slightly, but I didn't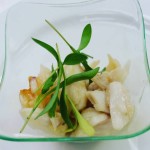 miss out on anything, except the beer. The first course, or amuse bouche, was crab meat salad with red onion, cilantro, and yuzu. A literal seafood party in my mouth. Everyone else had a Ginger Crab Fritter with Spicy Banana Purée Paired with Fu Manbrew – Belgian Style Wit.
The sec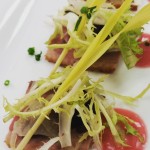 ond course, Duck and Blood Orange Salad with Frisee, Fennel, and Blood Orange Vinaigrette, introduced me to a new preparation of duck – duck ham that was brined in blood oranges and sliced thin. This course was paired with Blind Pirate – Blood Orange IPA.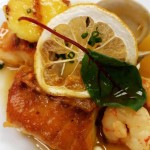 I can't decide whether the third or the fifth course was my favorite, but the pineapple bouillabaisse was definitely a first for me. Serrano Eye Patch Bouillabaisse with Monkfish, Clams, Snapper and Fresh Rock Shrimp, seared Pineapple, Saffron, Serrano Aioli was paired with Serrano Eye Patch Ale – Indian Pale Ale. This dish was so light and refreshing with buttery fish and perfectly cooked seafood that came together with a smooth Serrano aioli kick!
Chef Nick threw in a palate cleanser for the Fourth Course with a Bosch Pear Sorbet, Dried Lemon, Honey Kissed Pear made with Gun Show – Belgian-Style Golden Ale. I got to sample the diced pears sans beer and they cleaned that fish right out of my mouth.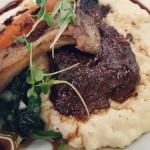 The Fifth Course of Vanilla Braised WagyuBeef Cheeks with Trumpets, Carolina Rice Grits, Heirloom Carrot, Wilted Greens, Cocoa paired with Drafty Kilt – Scotch Ale was very rich and hearty with a smoky and slightly sweet sauce that had reduced for hours.
Dessert is always pretty iffy for me, but Chef Nick brought out the big guns with a their signature light and fluffy chocolate mousse enrobed in chocolate topped with toasted hazelnut caramel that I got to pour. Everyone else had a Hazelnut Cigar with Smoked Dark Chocolate, Malted Sweet Cream, Caramel, Hazelnut Powder paired with Toasted Hazelnut Imperial Stout – hence the ashtray presentation.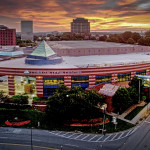 Thank you team for a memorable and delicious event. Schedule your next corporate meeting, event, or party at Cobb Galleria Centre knowing your guests will leave raving about the food.
Disclosure: I received no compensation for this review; however I did receive a free meal. In no way did it influence my opinions and views, which are derived from my personal experience.