I love grocery shopping and discovering new products and Sprouts Farmers Market is one of my favorite places to frequent. Whenever I visit my mom in Mesa, a trip to Sprouts is always in order to see what's new and to shop for essentials while I am in town. Having Sprouts open in Georgia has been such an unexpected treat. So, being invited to attend a smoothie demo at the new Sprouts in West Cobb by the Atlanta Food Bloggers Society was definitely a yes, even on a school night! Especially when the lovely and talented Marisa Moore, registered dietitian, is teaching.
The room was packed with attendees anxious to learn more about creating smoothies. Marisa showed us how to make three healthful smoothies and how to add nutritious boosts using fresh ginger, turmeric, chia seed, matcha, hemp and beet powders, and brain boosters like frozen berries. I really appreciated that she used almond milk and not dairy milk for the smoothies, pointing out that these milks aren't as high in protein as one might think.
I agree with Marisa that smoothies are a great way to get vegetables into breakfast and they are quite easy to make. Load the light ingredients into the bottom of the blender first and top with heavy ingredients, like ice or frozen bananas, to ensure everything mixes evenly. Make themed smoothies for breakfast like carrot cake, that incorporate your favorite flavors.
Watch out for added sugar when selecting protein powders. Instead, opt to sweeten smoothies with honey, dates, and date sugar, which are low on the glycemic index and won't spike your blood sugar leaving you craving more instead of feeling full.
In the end, you get the nutritional value that you put into a smoothie, so stick with whole foods and utilize Sprout's store brand hemp seed, beet and protein powders, fresh produce and fruit.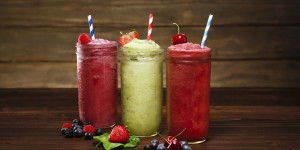 Thank you Marisa for such an informative demo and for the smoothie recipes. I can't wait to get blending!
Disclosure: I received no compensation for this review; however I did receive a store gift card. In no way did it influence my opinions and views, which are derived from my personal experience.