There's a new vegan nut-based milk in town and it's putting protein, nutrition and taste first. Made with pea protein (10 grams per serving), it has a creamy consistency and clean flavor that I can get behind. BolthouseⓇ Farms Plant Protein Milk is free of GMOs, dairy, nuts, and soy and it has 50 percent more calcium than dairy milk!!!
It's perfect to have on hand for morning cereal or tea and it works great in recipes too. The chocolate is my hands-down favorite with just enough sweetness to satisfy without being overly sweet.
This double chocolate cookie recipe uses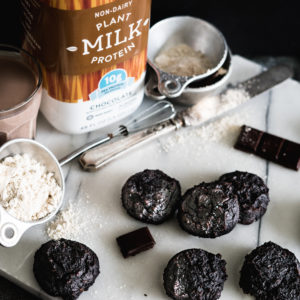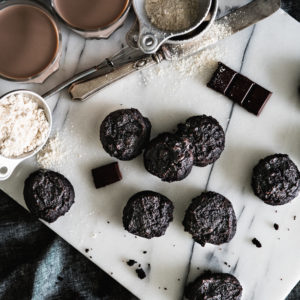 BolthouseⓇ Chocolate Milk and is super easy to prepare.
Ingredients:
¾ cup diced avocado
1 ripe banana (about ¾ cup sliced)
¼ cup coconut or date sugar
¼ cup BolthouseⓇ Chocolate Milk
½ cup oat flour
½ cup almond meal
⅓ cup Dutch process or dark cocoa powder
½ teaspoon baking soda
½ teaspoon fine sea salt
½ cup dark chocolate chunks
Directions:
In a food processor combine avocado, banana, and sugar and pulse until smooth. Add milk and pulse until combined.
In a medium bowl whisk together flour, almond meal, cocoa powder, baking soda, and salt. Add to food processor and pulse until just combined. Transfer batter to a bowl and stir in chocolate chunks. Refrigerate dough for 1 hour.
Preheat oven to 375℉. Grease a cookie sheet or line with parchment.
Using a tablespoon, drop dough onto cookie sheet 2" apart. Bake 12-15 minutes or until dry to the touch and set. Let cool completely.
This recipe makes 20 cookies – just enough to share or not – you decide!
 Disclosure: I received no compensation for this review, but the products were provided at no cost. In no way did this influence my opinions and views, which are derived from my personal experience with the products.