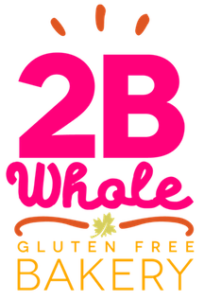 2B Whole Gluten-Free European Bakery is having a huge sale this weekend with 30% off everything starting Friday January 19th until Monday January 22nd at midnight. Shop online or stop by the dedicated gluten-free bakery in Alpharetta. Be sure to enter code [30winter] to save when shopping online.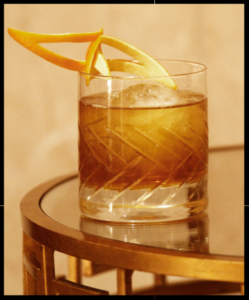 The new cocktail in 
Bar Margot's
 'Missing Digit' series gives guests the chance to play bartender. Rum, Tequila, or gin can serve as the base of the Split Personality – one cocktail with multiple personalities. 
With Cocchi di Torino, Gran Classico and black tea orange bitters, this delectable cocktail can take on whatever flavor you want. 
Stop in and taste the Split Personality for $14 now through the end of January. 
According to Tone To ATL, Dantanna's has closed its Sandy Springs location after less than four years in business. The restaurant, located in a 5,900 square foot out-parcel of Abernathy Square shopping center at the corner of Abernathy Road and Roswell Road in Sandy Springs, closed after the University of Georgia's loss in the College Football National Championship game. It opened in April 2014, replacing what had for many years been an Applebee's restaurant before it closed in late 2013.
Genuine Pizza is open inside Phipps Plaza with fresh, not frozen gluten-free pizzas made on Wildflour Gluten Free Baking Company's crusts. The crusts are prepared in a dedicated gluten-free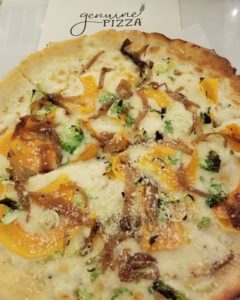 environment and sent to Genuine Pizza as dough that is then proofed and cooked to order. Genuine has a dedicated pizza cutter and the pizza is prepared and cooked on a special mat along with the wheat-based pies and  shared ingredients are used. Flour is used to roll out both the white and wheat dough before putting it in the oven. Because of this step, they advise against ordering the gluten-free dough due to the risk of cross contamination.
I had one of their pizzas and had no reaction. Eating pizza on a fresh gluten-free crust is pretty rare in Georgia, and the experience offers a light and airy crust with that pull and tug texture I remember from my youth. All of their ingredients are gluten free except the meatballs. The curated pies change with the seasons and are topped with local and ethically sourced ingredients, like short ribs, rock shrimp, housemade ricotta cheese, slow roasted pork and figs.
They also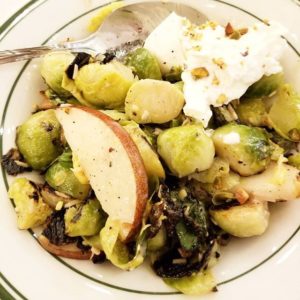 offers salads that are legit delicious, entrees, and panna cotta for dessert. They are a welcome addition to Phipps Plaza's growing list of restaurants/eateries.
Are you looking to feed your body more nutritious and delicious food in 2018? If so, head over to fast-casual restaurant Gusto! where they serve all-natural, antibiotic-free chicken, wild-caught shrimp and, whenever possible, local and organic ingredients such as peppers, greens and sweet potatoes.They deliver quality food quickly and enhance the experience with their unique pairings of globally-inspired ingredients prepared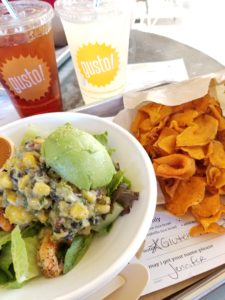 fresh daily and to order. Gusto! serves a simple menu of grilled chicken, shrimp or portabella mushroom combined with thoughtfully crafted blends of ingredients that add a distinct flavor profile and texture to each entrée.  Choose from one of the six prepared bowls (some are already gluten free), or create your own masterpiece. Its like eating a kicked up version of Chipotle that is made with clean ingredients that are filling and easy to digest. Man, their chipotle sauce is beyond addictive and the sweet potato chips that come with every order are perfectly crisp.
The Counter Custom Burgers in Roswell closed January 7th. The 2,800 square foot restaurant, located on Mansell Road near its intersection with Alpharetta Highway, opened in 2008 in a former SouthTrust Bank branch. What a loss to the gluten-free community – they had safe buns for burgers and multiple types of fries along with cider and dessert. Darn. Thanks for the news Tone To ATL.