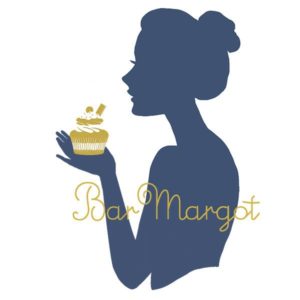 Bar Margot's chefs just launched a new YouTube series called 
Bar Margot Bites
. Executive Chef Michael Patria and Executive Pastry Chef Lasheeda Perry will both post videos showing viewers how to make items currently on Bar Margot's menu. Not all of the videos will feature gluten-free cuisine, but the recipes can usually be easily modified. 
Follow the chefs on Instagram 
@ChefMPatria
 and 
@MissChefSmileyPants
 and subscribe to their YouTube channels 
here
 and 
here
.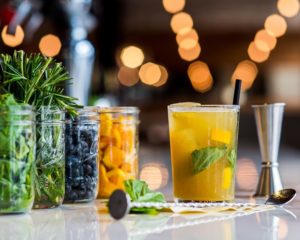 National Sangria Day was December 20th, but every day is a good one to sip on red or white sangria at Bulla Gastrobar in Midtown. Red sangria isn't my favorite and finding white at any restaurant is next to impossible, so 'thank you' Bulla Gastrobar for serving Sangria Blanca ($8 glass/$29 pitcher).
Chuys' in Alpharetta opened its doors on Tuesday. This is the fourth metro-Atlanta location for the chain serving up Tex-Mex cuisine. Chuy's has quite the reputation for being a fun spot to enjoy affordable and real Mexican food and unique drinks made with love and layered with flavor. Gluten-free options are limited in number, but bold in flavor. Gluten-free chips can be prepared separately to order and half of their 10 housemade sauces are safe. The un-marinated beef and chicken can be prepared to order and served alongside the vegan refried beans (you would never know it) and rice. Seriously, I will go just to eat the rice and beans and enjoy the music and atmosphere. Throw in a drink or two and I am down for the evening.
Stop by Davio's Northern Italian Steakhouse for the Feast of Seven  Fishes on Christmas Eve. The Feast of the Seven Fishes, known as La Festa dei Sette Pesci, is a deeply rooted Italian Christmas Eve tradition, originating in Southern Italy and honoring the vigil prior to a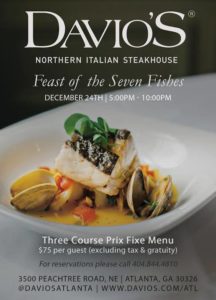 religious holiday when no meat was served. And the entire menu is gluten free, minus the bruschetta, which can be substituted with their housemade Parmesan rosemary rolls. Check out the menu:
Primo

Smoked Salmon Carpaccio, Capers, Arugula, Lemon, Olive Oil

Secondo

Nantucket Bay Scallop Risotto, Lemon, Basil

Piatto Della Vigilia

Seafood Cioppino, Lobster, Shrimp, Hake, Clams, Mussels, Spicy San Marzano Tomatoes, Grilled gluten-free bread for dipping!​

My daughter and I attended Holiday Afternoon Tea at the The Café & Bar in the Mandarin Oriental, which is served daily from 2:30 p.m. to 4:30 p.m. until December 31st, and had a marvelous experience. I sipped on seasonal tea, while my daughter enjoyed a strawberry and banana smoothie. The selection of scones, finger sandwiches, and sweets didn't disappoint. They made all of my sandwiches on Udi's Gluten Free bread and the scones were homemade. My desserts consisted of housemade chocolate chip cookies, vanilla pana cotta and berries and cream. The whole spread includes: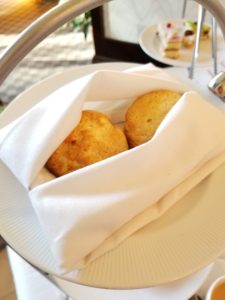 English Scones with Strawberry Preserves, Marmalade and Clotted Cream

Traditional Fresh Cucumber Dill Sandwiches on Rye
Smoked Salmon and American Hackleback Caviar on Sourdough 
Ham with Grain Mustard Mayonnaise on Brioche
Turkey and Cranberry Chutney on Wheat
Waldorf Chicken Salad on a Filo Tart (corn chip for gluten free)
Chocolate Éclair Tart
Vanilla Pana cotta with Berry Coulis
Pear Almond Tart
Berry Macaron 
Pecan Tart
Tea service is priced at $38 per adult or $58 including a glass of Champagne. A children's menu will also be available and is priced at $22 per child.