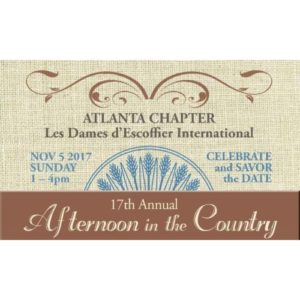 Chefs from 89 local restaurants will be at the Foxhall Resort & Sporting Club this Sunday, November 5th to serve their specialties under the big-top tents at the 17th annual Afternoon in the Country hosted by Les Dames d'Escoffier International. Farmers from our area's best farms will pair up with chefs alongside fine wines and premium microbrews for this 1-4 p.m. tasting-style event. Entertainment sprawls on Foxhall's expansive lawn with live music by Theresa Hightower and her jazz band, a cake raffle featuring sweets from Atlanta's best pastry chefs, and an expansive silent auction offering dining and travel packages and food and wine merchandise. Buy tickets online, $125 for adults 21 and over.

Genuine Pizza will open its first Atlanta location at Phipps Plaza in December. Originated in Miami as Harry's Pizzeria®, James Beard Award winner Michael Schwartz's casual pizza restaurant will offer gluten-free pizza on Wildflour Gluten Free Baking Company's crusts. These crusts are not pre-made and arrive as dough. They are proofed before being cooked, resulting in a light crust with air pockets and a chewy bite. They use a dedicated pizza cutter and each pizza sits on a special mat that it is prepared and cooked on. All of their ingredients are gluten free with the exception of the meatballs.
Gluten Free Cutie bakery is changing up their Thanksgiving ordering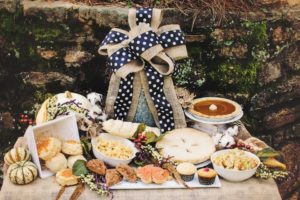 procedures. They are not taking pre-orders, rather they are hosting Market Days on Tuesday and Wednesday of Thanksgiving week. Mark your calendar and be sure to stop by on 11/21 from 10-5 and 11/22 from 10-3 to buy your favorite product for turkey day. Choose form green bean casserole, hash brown casserole, herb stuffing, take 'n bake cinnamon rolls, biscuits, pies, cobblers, scones, cookies, donuts, and cupcakes.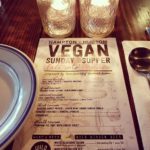 Hampton + Hudson in Inman Park can throw down vegan/gluten-free cuisine with texture and flavor for days. And they offers Pure Abundance's cashew cheese and Ratio Bakeshop's (not a dedicated facility) gluten-free buns. The menu is marked with a 'GF' by safe options. The chickpea and sweet potato burger with fried Brussels sprouts, chipotle agave aioli, and pure abundance cashew cheese is outstanding. They should bottle and sell that chipotle agave aioli.

Katz Gluten Free has added three flavors of holiday-themed donuts to its online store – and they are on sale: Candy Cane Crunch, Gingerbread, and Cranberry . As with all of their products, they are free of gluten, dairy, nuts, and soy and come six to a box.
Maggiano's Pasta Bar is the newest catering option and it feeds 10 people. An order comes with gluten-free pasta (and regular pasta if needed), three proteins (sausage, grilled chicken and seafood) three sauces (Alfredo, meat sauce, and marinara), a large salad and dessert. A nice alternative to traditional catering fare.