Brazilian steakhouse Chama Gaucha opened in the heart of Buckhead in the spring of 2015. Serving up slow-roasted meats (beef, lamb, pork and chicken) table side, family-style sides, warm tapioca cheese rolls with an expansive salad bar filled with meats, cheeses, fruits, vegetables, and signature salads, they continue to be a welcome addition to Buckhead. Recently, members of the Atlanta Food & Lifestyle Bloggers Society were treated to a night of food, drinks, and outstanding cuisine. 
If you haven't been to a Brazilian steakhouse before, it is an all-you-can eat dining experience where waiters clad in gaucho pants slice more than 12 types of USDA Prime (aged 45 days) fire-roasted meats table side. These meats are seasoned and cooked slowly to allow the natural flavors time to mature. They are served as soon as they are removed from the fire. In addition to meat, the menu also includes Brazilian side dishes of polenta, caramelized bananas, mashed cheesy potatoes, desserts, and a full bar.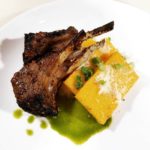 I love dining at Chama Gaucha because their Brazilian cooking style lends itself to the gluten-free diet and their service is exemplary. We couldn't have felt more welcome and at home by the wait staff if they tried. They are constantly offering clean plates, refills on sides, filling beverages and asking how they can make the dining experience better – and they really mean it.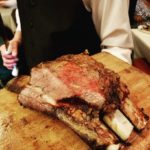 Tell the rotating staff of servers how you like your meat cooked and that is all they will bring for the rest of the night. My favorite cut of the night was a toss up between the garlic steak and the sirloin cooked a glorious shade of medium rare. Both were tender enough to cut with a fork and practically melted in my mouth. I also enjoyed the sirloin, lamb chops, shrimp, bacon wrapped filet, and chicken.
About six months ago, they removed beer from the chicken marinade to ensure all of their meats are gluten free. They consciously chose to expand their offerings to those following a gluten-free diet. What a great decision and one that is truly appreciated by the gluten-free community.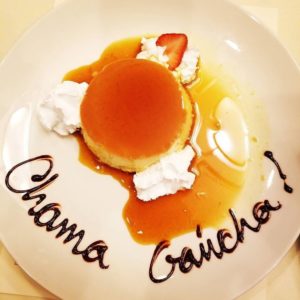 We ended the meal with the flan served with whipped cream and strawberries. The space is gorgeous with many private event areas perfect for holiday parties, etc.
We were so full, it was almost hard to walk to the car. What a wonderful experience and one that should be shared with friends, family, co-workers – you name it.
Make a reservation and head over to Chama Gaucha for a unique dining experience. And come hungry!
Disclosure: I received no compensation for this review, but the meal was provided at no cost. In no way did this influence my opinions and views, which are derived from my personal experience at the restaurant.