I have been a fan of Schar's gluten-free products for almost as long as I have been following a gluten-free diet – 20 years. Their breads, cookies, crackers, and pastas are head and shoulders above their competitors in quality, nutrition, and selection. And they are free of preservatives and GMOs.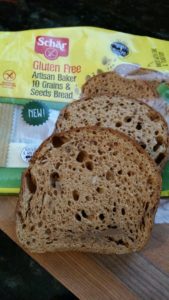 I was stoked to hear about the new 10 Grains & Seeds bread because it is made with whole and ancient grains, which are a good source of fiber, but mainly because it is a sourdough recipe. Man, have I missed sourdough bread. The bread, which is dairy and egg free, contains:
Rice Flour, Quinoa Seeds, Pumpkin Seeds, Flax Seeds, Sunflower Seeds, Chia Seeds, Millet Flour, Buckwheat Flour, Quinoa Flour, and Amaranth Flour
Loaded with seeds you can actually see, the new brown bread has a lovely sour and wholesome smell. It it soft and pliable right out of the package and ready to be topped with sandwich fixings, turned into avocado toast, or eaten plain without any heating. It tastes so good, like a cross between sourdough and whole grain. I immediately made a turkey bologna with mayonnaise and lettuce sandwich – a favorite of my youth. And it didn't disappoint. Like all of their products, it tasted just like I remember, maybe even better. Seeds in bread usually bother me, but not in this case. They add to the enjoyment of this nutritionally balanced bread.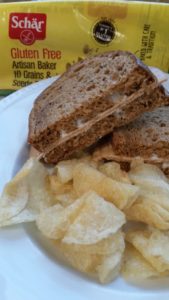 Another great thing about Schär is they use the ELISA R5 Test on the packaging that enters their dedicated gluten free facilities. And more than 95% of Schär products have a gluten content below 5 parts per million(ppm) gluten. The remaining test at between 5ppm and 10ppm.
Do you want to try this fantastic new bread? Head over to their website to print a $2 off coupon. Look for it on the shelf at Sprouts Farmers Market and other stores.
Keep up the good work Schar!