The gluten-free menu at Lula, Georgia's At The Tracks Restaurant is getting rave reviews. It includes gluten-free fried fish, chicken tenders, onion rings, sandwiches and burgers on Pure Knead's allergen-friendly bread and homemade desserts. Even the beer batter for the onion rings and fish is gluten free. If you find yourself in the area, make the effort to stop in.
FIGO Pasta, the Atlanta-based pasta chain, has closed their location on East College Avenue in Decatur. According to Tone to Atlanta, local sources indicate the restaurant quietly closed earlier this week with no advance notice to patrons. A sign on the restaurant's door confirms that the restaurant is permanently closed and directs patrons to the company's location off Moreland Avenue in the Edgewood Retail District. A true bummer for those who enjoyed their gluten-free pasta, meatballs, and daily specials.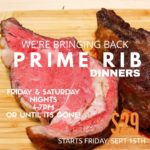 Noble Fin Restaurant is bringing back Prime Rib Dinner starting September 15th. Every Friday and Saturday from 4-7 p.m.(or until they run out), diners can order the prime rib dinner served with seasonal greens and mashed potatoes for $29 per person.
In addition to the gluten-free red velvet cupcake that is available daily, Sprinkles is offering a gluten-free lemon blueberry cupcake through the end of September. Lemon cake is bursting with wild blueberries and topped with lemon cream cheese frosting. Both cupcakes contain dairy.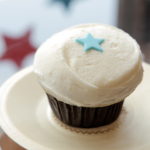 Table & Main's paleo Wednesdays continue to delight with creative options all sans gluten and dairy. Check out the next two weeks of entrees:
Sept-13 | Braised Lamb Shank, garlic new potato, okra, peppers, green harissa
Sept-20 | Salmon Cakes, smoked dill aioli, rosemary beets, Fuji apple, watercress, toasted pecan
True Food Kitchen is donating $1 from every herb hummus sold during the month of September to the American Red Cross for hurricane relief. They are looking to raise $20,000! Of course, the hummus is gluten-free and can be served with crudites instead of bread. While you are there, save room for dessert. Their flourless chocolate cake is served warm on a puddle of caramel, topped with ice cream (dairy-free too) and cacao nibs. Swoon worthy!