I don't normally write about music, but when I learned that Lilac Wine will be playing every Thursday night at Venkman's starting at 7:30 pm, I had to share the news. I heard them play at a Grillin' and Chillin' event and became transfixed not only by their song choices, but by the creative arrangements and vocal ranges that seemed to flow so freely from their talented fingers/voices. Lilac Wine is a local Atlanta trio made up of Rob Henson, founding member and bassist, Grant Reynolds, first-call guitarist, singer, arranger and multi-instrumentalist, and Larissa Mia as the vocalist. Admission to Lilac Wine is free and dinner reservations can be made online or by calling (470) 225-6162.
Every Saturday in August is French Beignet day at Gluten Free Cutie. An order of four, made fresh to order and topped with powdered sugar, is $4 and they are served warm. Go and check them out for a special treat, but get there early because they are bound to go fast!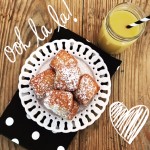 Lovies BBQ is serving up legit pulled meats, sides, and salads in the heart of Buckhead. Made from scratch sides include potato salad, baked beans, brunswick stew, collards, green beans with a white pepper kick and more. Their pulled pork and chicken, ribs and brisket are cooked low and slow and are delicious. Stay away from anything that goes in the fryer like the Brussels sprouts and wings. Honestly, there are so many gluten-free options to choose from that placing an order takes time. And they serve breakfast and brunch and offer catering too. They are located behind the Naan Stop where Lenox dead ends into Piedmont.
Ordering groceries has never been easier with Prime Now. Prime members in Atlanta can have fresh organic produce, meat and seafood from Sprouts Farmers Market delivered right to the door with one ($7.99 ) and free two-hour delivery. Delivery from Sprouts Farmers Market is available from 8 a.m. to 10 p.m. daily through Prime Now. Download the Prime Now mobile app or shop online.
Don't you just love it when restaurants celebrate an anniversary by throwing a big party? Well, it just so happens that Table & Main is celebrating their 6th Anniversary with a party in their back par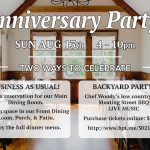 king lot on August 13 from 4 – 10 p.m. A $25 ticket gets you access to live music and an all-you-can-eat Low Country Boil prepared by Chef Woolery Back and Meating Street BBQ's Brian Keenan. Tickets can be purchases at the gate or online.
Speaking of Table & Main, here is this month's paleo friendly options for Wednesday nights. Paleo cuisine doesn't contain gluten or dairy and is vegetable and meat centric.
Aug-16 | Sonoma Valley duck breast, peaches, charred peppers, log-grown shiitake, lamb quarters
Aug-23 | Gulf red snapper, shrimp, tomato broth, squash and zucchini ribbons, sweet onions
What's gluten-free at The Federal? While this new-ish restaurant from Shaun Doty and Lance Gummere isn't as gluten-free friendly as Bantam + Biddy and Chick-a-Biddy, there is a decent selection of gluten-free cuisine:
Breakfast:
Protein scramble $12
Brisket skillet hash $16
Texas breakfast (without the toast) $16
Lunch:
Deviled eggs $5
Simple salad $8
Steak salad (without the hen mushrooms) $16
Any of the sandwiches (without the bread) $12
Steak frites $25
Dinner: (entrees change often)
All steaks are gluten free $48-$72
Steak frites $25
Sauteed hen mushrooms (side item) $8
Potato salad (side item) $8
Antipasto $18
Brunch
Big bowl of fresh fruit $12
Southern breakfast (without the biscuit) $15
Brisket skillet hash $16
Texas breakfast (without the toast) $16
Atlanta's first cidery, Urban Tree Cider, in now offering 12 ounce bottles of its core ciders. Original, Classic and Barrel-Aged are available for consumption and sale in Atlanta at: Argosy, Hop City, Porter Beer Bar, Truck and Tap, the Indigo Hotel and outside of the city at: Fortify Pi and U-Joint. The tasting room does not sell the new size, but still has both the 750 milliliter and growler available for purchase on premise. And their seasonal cherry cider is available during tasting room hours too. Think I will be ordering an "East Lake" cocktail that combines vodka, simple syrup, mint and cherry cider very soon.