Dantanna's is celebrating National Tequila Day with its "Maestro Monday" event July 24th. All three locations (Buckhead, Sandy Springs, and Downtown) will offer a tequila sampler all week including Avion Silver, Don Julio Silver and Dantanna's Maestro Blend tequila for $12.
Kaiser's Chophouse, a collaboration from Chef Peter Kaiser and Chef Kevin Rathbun, in Sandy Springs serves up gluten-free cuisine with a smile. The majority of their menu can be modified to be gluten free and they have a dedicated fryer. There is plenty of fresh seafood (hot and cold) on the menu and the crab cakes are gluten-free too, which is definitely a rare find in Atlanta because of gluten-y bread crumbs. Can't wait to dig into a plate of crab cakes with a side of hand-cut french fries topped with garlic-pepper dust.
Mediterranea recently added two additional vegan options to the lunch menu. Panko-crusted artichoke white bean croquettes on a bed of bitter radicchio, with sweet oranges and briny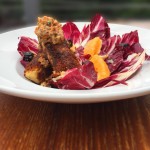 Moroccan olives in a tahini dressing. The croquettes can also be served on a grain bowl with avocado, tomatoes, and micro greens. Lunch is served Tuesdays through Fridays 11:30am-2:30pm.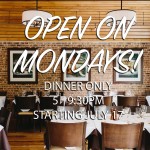 Moonbird Coffee in Chamblee is now selling Sally's Gluten Free Bakery items! And they offer soy and almond milk too. Moonbird Coffee is located inside of Southbound Restaurant on the top floor.
Osteria Mattone is opening its doors for dinner service on July 17th. Stop by every Monday from 5:00-9:30 p.m. for a meal featuring regional Italian cuisine with a heavy focus on Roman fare. And there is gluten-free pasta! Reservations are recommended and can be made by calling the restaurant.
Poke Bar Dice & Mix recently opened a new location in Duluth on Medlock Bridge Road in the same plaza as the Regal Theater. The fast-casual restaurant allows customers to create bowls with their choice of fish and seafood such as tuna and salmon and mix-ins like as seaweed and pineapple. The sauces contain soy, so bring gluten-free soy sauce or top your creation with sesame oil and sesame.
Congrats to East Cobb restaurant Seed Kitchen & Bar being recognized as a 2017 Top 25 Sm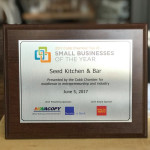 all Business by the Cobb Chamber of Commerce. The Chamber applauds Seed for excellence in entrepreneurship and industry and its contributions to the vitality of the community. Chef and owner Doug Turbush and his family are longtime East Cobbers. He feels "there is nothing more rewarding than seeing the people of East Cobb making lifelong memories right here in our restaurant." Turbush and his team are honored and grateful to be recognized, and they give an appreciative shout-out to the Cobb Chamber for its work to support Cobb County businesses and community.
According to TonetoAtl, Buckhead's Sophie's Uptown has been listed for sale. The popular bakery which has been in business for about ten years is up for grabs due to owner David York's planned relocation out of state. The 2,200 square foot shop is located just off Peachtree Road on Pharr Road, and is open for breakfast and lunch and also offers assorted bakery items. Sophie's Uptown donates 25% of their sales to local animal rescue and adoption organizations and their charitable involvement has helped them thrive in an otherwise off the beaten path location.
All of the desserts on True Food Kitchen's new Summer menu are gluten free and vegan. The flourless chocolate cake has long been a favorite of mine, but I think a slice of Key Lime Pie with coconut chantilly is in order.
Flourless Chocolate Cake caramel, vanilla ice cream, cocoa nibs
Chia Seed Pudding banana, toasted coconut
Sea Buckthorn Sorbet, luxardo cherry
Vegan Vanilla Ice Cream
Have a safe and tasty weekend!