Sprouts Farmers Market opened a new store in Woodstock on Towne Lake Parkway and the Atlanta Food Bloggers Society was on hand to take it all in. This grand opening marks the introduction of a new and larger floor plan with increased offerings of fresh produce, meat and seafood, vitamins and supplements, packaged groceries, deli, dairy products, frozen foods, natural body care and household items. With a focus on offering fresh, natural and organic foods at great prices, they threw out all the stops by also hosting a patriotic-themed cooking demo taught by the lovely Marisa Moore, registered dietitian.
It was standing room only as the crowd waited for Marisa to show us how to add red, white and blue dazzling colors to drinks, salad and dessert that are sure to become crowd pleasers. Marisa made ruby red raspberry sparkling lemonade, watermelon, blackberry and feta salad and berries and cream. We sampled these healthful recipes that are very easy and inexpensive to make.
Add Sprouts organic red beet powder (find in supplements) to Sprouts sparkling lemonade and top with lemons and frozen raspberries for a tangy and refreshing drink. The watermelon, blackberry and feta salad was dressed with lime juice, raw honey and fresh mint. If you want to omit the feta, which is salty, add a pinch of kosher salt before drizzling it over the salad.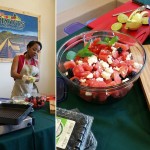 Since I cannot tolerate dairy, it was lovely to see Marisa offer So Delicious' cocowhip and coconut yogurt as alternatives for the berries and cream. Cut up the strawberries and blueberries, combine with vanilla extract and coconut sugar and let them sit while they create a lovely sauce. Top your favorite gluten-free cake with cocowhip and a heaping spoon of berries, or create berry parfaits layering coconut yogurt with the berry mixture.
Thank you Marisa for such an informative demo and for the red, white, and blue recipes!
Disclosure: I received no compensation for this review; however I did receive a store gift card. In no way did it influence my opinions and views, which are derived from my personal experience.