Rob Green, bartender and award-winning mixologist, has created a line of nutritious cold pressed juices that taste great and are actually good for you called SMASH Culinary Crated Juice. These organic and uniquely flavored juices are coconut-water based making them ideal to include in your daily health plan. And they double as cocktail mixers that keep you hydrated as the night goes on.
The launch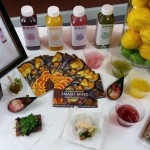 party was held on the seventh floor of Yoo at the Zoo with a view of their sheik lounge and pool. The evening included small bites from Off the Eaten Path and Chef Melissa, a drink bar with mocktails and cocktails and Trilogy cigars. The food was fantastic, but the star of the evening was the small-batch juices.
A great source of vitamins and aminos, Rob blends fresh fruits and veggies into four flavor combinations: Juggernaut, Kapow, Blue Steel, and Pom Bom.
Juggernaut – 

Wheat grass, Kale, Spinach, Cucumber, Apple, ​Ginger, and Organic Sugar

Kapow – 

Orange, Pineapple, Turmeric, Ginger, Coconut Water and ​Raw Honey

Blue Steel – 

Blueberries, Sage, Lemon, and Organic Sugar

Pom Bom – 

Pomegranate, Cranberry, Red Grapes, Vanilla Bean, Raw Honey, and Coconut Water 
The Juggernaut was my favorite with the kapow at a close second. Lightly sweetened with organic sugar or honey, they contain a short list of simple ingredients packed with a clean, refreshing, balanced flavor that leaves you wanting more. I loved that you could sample them with or without alcohol, so you could really get a feel for the flavor itself.
Now, on to the food. I noshed hard on the espresso pomegranate pot de creme and marinated Argentinean meatballs with red wine vinegar and chimichurri. The bold flavors paired nicely with the cocktails creating the perfect eat and chill vibe.
Congrats to Rob and the successful launch of SMASH Juices. Order them online for local delivery!
Disclosure: I received no compensation for this review; however I did receive free samples. In no way did it influence my opinions and views, which are derived from my personal experience.