Bezoria, the healthy fast-casual Mediterranean restaurant, opened a second location in Alpharetta across the street from Avalon. Everything is fresh, never frozen, and made in-house. And there are plenty of gluten-free options, including shawarma, chicken kefta, lamb kefta, falafel and customizable bowls with a basmati rice base. Because they make pita sandwiches, ask them to get condiments from the back and not off the line. They have plenty of vegetarian options too, like the falafel, spiced cauliflower, tomato and cucumber salad and much more.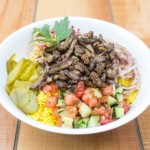 Only available at the Buckhead Bon Glaze, shaved ice in a variety of flavors. All flavors are handmade daily with natural ingredients. And they are open until 8pm weekdays! Stop by their take away window for a cool treat.
The Chick-fil-A at Avalon in Alpharetta is open, but you might miss it if you don't know what to look for. The brick building looks like a bank, not a typical Chick-fil-A store, that is located just pass The Container Store.
Jeni's Ice Cream is open at Avalon in Alpharetta and the lines are out the door. Ice creams are labeled 'gluten free', if applicable, and they will use a clean scoop and new container upon request. Their ice cream sandwiches are gluten free too!
Luvo, Inc. is launching new Roasted Cauliflower Mac & Cheese. The gluten-free dish consists of brown rice noodles, a creamy cheddar and Monterey Jack cheese sauce, roasted cauliflower crumbles and a panko style topping made with rice flour and pea protein. Providing 11 grams of protein and 55 grams of whole grains, the frozen meal is nut-free and vegetarian.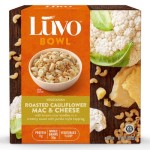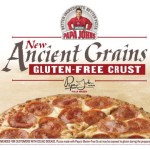 Papa John's is testing a Gluten-Free Crust is made with Ancient Grains, specifically sorghum, teff, amaranth and quinoa, in locations across Los Angeles, Phoenix, St. Louis, Houston and Nashville. The new crust is never frozen and took the Papa John's R&D team more than a year to develop. The crust is made with gluten-free ingredients, but the pizza will be prepared and cooked along side wheat-based pizzas making it unsafe for those looking to avoid cross contact with wheat. Just what the gluten-free community needs, another gluten-free product made for fad dieters.
Rize Artisan Pizza + Salads is opening its patio in style with an all-day patio-opening party on Saturday, May 6 featuring sangria priced at $5/glass or $25/carafe, and $5 small plates plus live music at 7 p.m. Party goers can register to win a $100 Rize gift card. Here's the May 1-7 lineup of daily specials leading up to the May 6th party:
Monday, buy one pizza, get the second one free (equal or lesser price).
Tuesday, buy an adult entrée (pizza, full salad or pasta) and receive a Kids Meal free (kids 10 and under); one Kids Meal per one adult entrée.
Girls Night Out Wednesday features $5 small plates and $5 sangria from 5 p.m. until close.
Trivia Night Thursday, enjoy a trivia competition from 8-10 p.m.
Date Night Friday gifts guests with one free small plate with the purchase of a sangria, beer or wine after 5 p.m. Limit one per person.
Saturday, all-day patio kick-off party. 
Brunch Sunday introduces a new brunch menu, available from 11 a.m.-2 p.m., featuring house-made frittata, breakfast pizza, mimosas and sangria.
According to TonetoATL, Sprouts Farmers Market opened their 15th Atlanta area location Wednesday at the new Tucker Meridian shopping center in Tucker. The Phoenix-based chain plans to open their next Atlanta location June 28th in Woodstock. Since entering the Atlanta market in 2014, Sprouts has opened stores from Peachtree City to Snellville and Peachtree Corners to Morningside.
Whole Foods private label brand 365 Everday Value just released PB&J Bites. According to the company, this strawberry filled peanut butter snack goes best with milk or yogurt – kinda like cereal. Portable, bite-size, crunch peanut butter and jelly sammies for the win!