Hop City owner Kraig Torres opened Barleygarden Kitchen & Craft Bar at Alpharetta's Avalon on Thursday, April 13th. The two-story space features a dog-friendly patio and a convenient to-go window to take advantage of Avalon's open-carry policy. Yes, they are all about wheat-based beers, but they do have a few gluten-free offerings: Urban Tree Classic Cider, Treehorn Apple Cider, and Argus Cidery Ginger Perry. No bottled gluten-free beer as of yet, but hopefully that will change. 
Chicken Salad Chick will open its first Newnan location at Ashley Park later this year. The Auburn, Alabama-based restaurant, sells 12 different flavors of chicken salad and a selection of salads and sides. While they do not offer gluten-free bread, all of the chicken salad is gluten free and can be served by the scoop or taken to-go by the pound. Ask them to pull from sealed chicken salad containers not on the prep area using a clean scoop after changing their gloves.
TonetoAtl reports that Flippin' Pizza NY Pies & Slices plans to open their first Atlanta area location next week in Roswell. The pizza franchise will open in a 2,400 square foot space in the Kroger anchored Coleman Village shopping center on Marietta Highway. Operators Manita Amin and Tulaib Faizy are opening the new restaurant and reportedly have plans for as many as four more metro locations in the coming years. The restaurant will celebrate their grand opening next Thursday April 27 with free slices, sodas, raffles and other giveaways from 3:30-7:30pm.  Flippin' Pies offers 10″ gluten free pizzas which start at about $9.50. There isn't any information about their gluten-free offerings on the website, so ask many questions before ordering.
Chef Savannah Sasser is the new executive chef at Hampton + Hudson. Her spring menu features an array of ne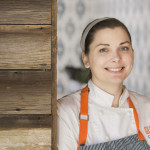 w items with more vegan and gluten-free options including breads from local allergen-free bakery Pure Knead. All gluten-free options are marked on the menu. The crew at Hampton + Hudson is very accommodating and can customize dishes for gluten-free customers. May 7th marks the first vegan supper at Hampton + Hudson with vegan/gluten-free options too. Make a reservation fast, before it fills up!
Mediterranea has started serving lunch Wednesdays – Fridays from 11:30 a.m. – 2:30 p.m. This all gluten-free restaurant has a menu full of tempting choices for appetizers, soups, and entrees. They also have a full bar and expansive wine list. And they baked all of their breads and sweet treats fresh daily. The focaccia is fantastic.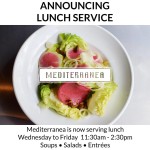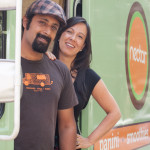 Nectar, an Atlanta-based Healthy Lifestyle Cafe, has partnered with Georgia Tech students and faculty to provide healthier options made with local ingredients on campus. Handcrafted smoothies, vegetarian, vegan and gluten free hot pressed sandwiches, soups and salads fill the menu. Pure Knead's allergen-friendly breads will be used to prepare gluten-free sandwiches. Nectar at Georgia Tech is located at 315 Ferst Drive, Atlanta, GA 30322. Nectar will be open from Monday – Friday from 8:00 am – 5:00 pm. The Nectar food truck will also be on campus two times a week.
Papi's Cuban & Caribbean Grill has its safe handling procedures in order and then some. I attended an opening event and was unsure what I could eat. After speaking with one of the managers, I learned that many of the marinades contain gluten and proteins tend to be pre-marinated. So, a plate was made for me in the back. My food was delicious and the care taken to prepare it exceeded expectations. We will definitely be back to try out everything listed below: 
Appetizers and Sides: white rice, yucca con mojo, chicken wings plain, (no French fries or sauce).
Salads: steak, chicken and shrimp made on the grill with only salt, black pepper, and oil. No croutons and only oil and vinegar dressing. (no mango dressing)
Papi's Specialties: any of the following protein choices not pre-marinated and cooked on the flat top with only oil, salt, and black pepper can be combined with an appetizer, sides, or salad. The proteins are steak and onions, chicken and onions, tilapia fillet, pangasio fillet, shrimp, vegetables, or eggs (for breakfast).
Check out the April/May paleo specials at Table & Main in Roswell. Every Wednesday features a paleo dish.
Apr 19th Riverview Farms Pork Loin, cauliflower and garlic mash, spring onion, rainbow chard
Apr 26th Smoked Pork Breakfast Sausage Scotch Egg, chili maple syrup, saute of rainbow chard in strawberry veal demi
May 3rd Brasstown Beef and Bacon Meatloaf, whipped parsnip and garlic green beans
May 10th Cajun Braised Rabbit Gumbo with dirty cauliflower "rice"
May 17th Pan Seared Red Fish, pickled clam, squash and zucchini ribbons, tomato water
Have a safe and tasty weekend!