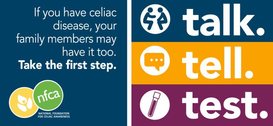 In conjunction with Celiac Awareness Month in May, the National Foundation for Celiac Awareness (NFCA) has launched "Seriously, Celiac Disease," a national campaign to encourage individuals with celiac disease to "Talk. Tell. Test." with their biological relatives using personal, one-on-one conversations.
When I was diagnosed with celiac disease in 1997, no one had heard of this genetic autoimmune disease. I was able to find a great uncle on my mom's side and an uncle on my father's side who were diagnosed with celiac, but that was it. My mom, sister, and father have all been tested and they are negative. They all have autoimmune issues. My mom has diverticulitis, my sister and father have gastroesophageal reflux disease (GERD), and my father  has diabetes. A whole slew of autoimmune issues plague other family members on both sides and none realize the important of testing.
"Celiac disease is genetically based, so it is more common in those with a family history of the condition, and having an autoimmune condition like celiac disease makes you more likely to develop other autoimmune diseases," said Daniel A. Leffler, M.D., M.S., NFCA Scientific/Medical Advisory Council Member and Director of Research for The Celiac Center at Beth Israel Deaconess Medical Center in Boston. "Testing at-risk populations for celiac disease has been consistently shown to improve detection rates among family members and accurate diagnosis is vital to ensure that the disease is managed appropriately."
Here are the steps and tools in the campaign: 
TALK to your family.
It's important to talk to both immediate and extended family members soon after a celiac disease diagnosis to help them understand why getting tested is important for their own health. These private conversations should be initiated in person using a serious yet personal tone.
TELL them the facts.
Since many people with celiac disease don't have any symptoms at all, it can be hard to clearly explain what undiagnosed celiac disease can do to the body. That's why it's important to relay the facts of celiac disease to relatives. Once one person is diagnosed, all biological relatives need to know that celiac disease is genetic. Those diagnosed play a key role in helping family members understand the importance of a formal diagnosis and its long-term management with a team of knowledgeable healthcare providers.
Urge them to TEST.
A simple blood test is the first step in learning if a person has celiac disease. Depending on the results, a biopsy of the small intestine to check for damage may be ordered by the physician following the blood test.
Visit http://www.SeriouslyCeliac.org to access the following free resources to get the conversation started:
PSA Video – A powerful video that teaches those diagnosed with celiac disease how to effectively talk to relatives about the importance of celiac disease testing using tactics grounded in the Health Belief Model, one of the most widely used conceptual frameworks in health behavior.
Discussion Guides – Research-tested tactics that explain the specific "dos" and "don'ts" needed to drive this important conversation between family members, as well as with physicians.
Personal stories –Personal stories from others diagnosed with the serious genetic autoimmune disease are available to learn about other family testing experiences.
This campaign could be the key to extending and increasing the quality of life for your family. I hope you will take the steps and use the tools to encourage your family to get tested. A simple blood test could change the direction of their lives.