Seems like a strange title for a post, so let me explain. As a member of the Atlanta Food Bloggers' Society, I was invited to Lauren Patrick of Pretty Southern's house for a dinner where all of the dishes were made with NaturAlmond almond butter and Georgia Grinders cashew and peanut butter.  Appetizer, salad, entree, dessert, and after dinner drinks featured nut butters used in ways that were mind boggling successful.
Ou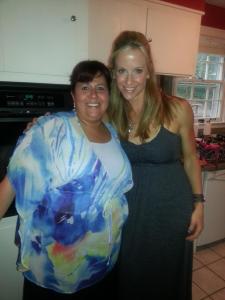 r dinner was prepared by Jaime Foster who started her company in 2011 to sell her grandfather's almond butter because it beats the pants off of what is commercially available. The company expanded by adding the Georgia Grinders peanut butter and cashew butter lines. Jaime uses non-GMO almonds from California and peanuts from south Georgia to craft her nut butters.
The menu for our dinner featured:
Stuffed dates with goat cheese and almond butter wrapped in bacon
Salmon topped with almond butter (and panko for the gluten eaters)
Salad topped with cashew butter dressing
Chocolate chip cheesecake with almond butter
Peanut Butter cocktail surprise
Since I follow a strict gluten-free diet, my dinner was a little different from what others were eating, but it was just as delightful. Who would have thought coating salmon in almond butter created such a moist and tasty treat? The chocolate chip cheesecake was decadent and loaded with creamy goodness, but it was the peanut butter cocktail that blew my mind. The cocktail was supposed to be ice cream, but it didn't harden, so Jaime added kahluha and vodka to create a refreshing and crave-worthy cocktail. The only ingredient that would improve upon this cocktail would be a scoop of ice cream.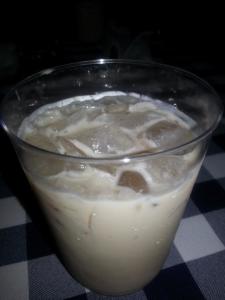 Thank you Lauren and Jaime for a wonderful evening and for adding a new set of recipes to my collection. NaturAlmond almond butter and Georgia Grinders cashew and peanut butters can be purchased locally at all of The Fresh Market locations, online direct from the company, and at Atlanta-area farmers markets.
Disclosure: Admission to this dinner was provided as a result of a media invitation. I received no compensation for this review. In no way did this influence my opinions and views, which are derived from my experience at this dinner.